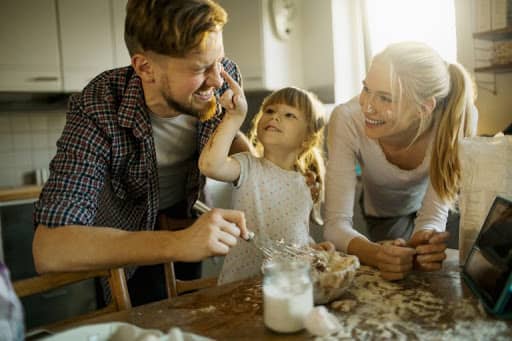 Opinion columnist Jessica Alexander used to be sceptical of the Danish emphasis on playing and socializing but has come to realize that all cultures tend to view their own parenting approaches as best.
When I first met my Danish friend Iben Sandahl many years ago, she and her husband had two kids and I had none. I had only been married for a short time and I was not what you would call "a kid person" at that time. But I always had a lot of respect and admiration for her family. Their daughters were so lovely and well behaved that I wondered what they were putting in their drinks to keep them so sweet and calm all the time. I never heard yelling or screaming and they were really cute and pleasant little girls. That kids could be like that was a bit of a revelation for me and I remember thinking that if I could get a guarantee that I would have children like hers, I would have one tomorrow!
So when Iben and I went out one day, just the two of us, I asked the questions I would ask an American mom:
"So what are your daughters enrolled in? What extracurricular activities do they do? What classes are they the best at? Do they get good grades? (Never mind the fact that one of them was only in kindergarten!)
I was surprised by her response.
"Well, apart from being the best, or getting good grades, it's really important for me that they are good at socializing," she told me.
"Socializing?!" I responded.
I thought she was joking. She wasn't. For her, it was very important that her children were kind, got along with their peers, and were well-liked by others. Weren't those just normal, taken-for-granted traits for kids, and how were they supposed to get ahead in life without more early education? It was one of the strangest things I had ever heard a mom say.
Here many years later, as I am now a mother to two half-Danish kids, and I realize these were just cultural differences. She was wearing her Danish glasses and I was wearing my American ones. We saw the world perfectly differently in our own way.
Our cultural beliefs are so engrained in us that we are unaware of how much they shape our visions of right and wrong. We all think that the way we grew up and our ideas about parenting are the "right way". We rarely, if ever, question this.
This "right way" of parenting is what Sarah Harkness, a human development professor at the University of Connecticut, calls "parental ethnotheories". They shape our lenses on the world and it is truly fascinating to see how different we can be.
In Belgium kids are allowed to drink beer. In Norway, babies are left outside to sleep in below freezing weather. Vietnamese children are potty trained by nine months with a Pavlov-style whistle blowing technique. Spanish kids can stay up until 11pm or later. The Kisii people in Kenya avoid eye contact because they think it gives children too much power. Americans are convinced early cognitive development is key while Dutch parents think regularly scheduled rest and food are crucial for kids. Each of these cultures see these things as "the right way". It begs the question: if we could all see ourselves objectively, without our culturally-adjusted lenses on, what would we see?
Harkness says that instead of judging others as being different or wrong, "we should be learning from each other and recognizing that there are very different and successful pathways to raising children." Not just our own.
So all of these years later, I am now wearing half American, half Danish lenses. I can see the importance of teaching empathy and social skills. I try to stay away from using words like gifted, smart and talented and focus more on the effort involved instead. I believe in the play-based Danish parenting style. And yet, I can only do it wholeheartedly by reminding myself that it is proven to be good for children's development and learning in the long run.
Probably the most interesting thing any of us can do is to remember that parenting is a verb that connects us all; across languages, borders and cultures. If we could all get behind one global lens, focusing on "the right way" might be a lot easier to do.
These articles could also interest you: